---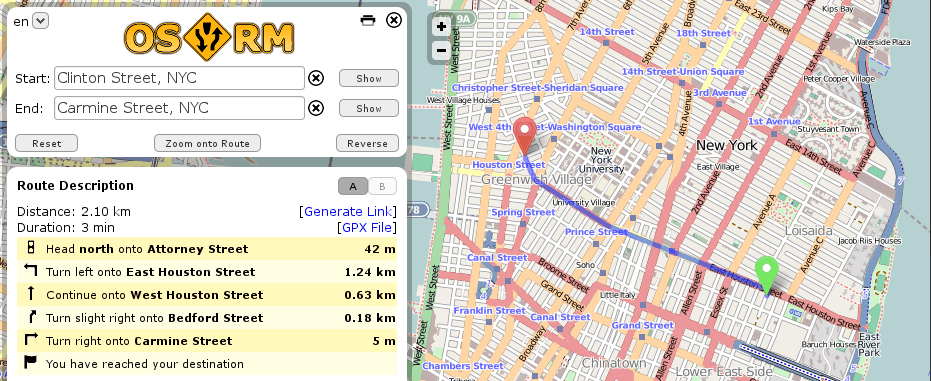 ---
Try our amazing public routing service at http://map.project-osrm.org/, meet us on IRC (server: irc.oftc.net, channel: #osrm) or follow us on Twitter.
| | | | |
| --- | --- | --- | --- |
| Project OSRM (master) | | Project OSRM (develop) | |
| Coverity Scan (develop) | | LUAbind port (master) | |
---
Support
About the Project
The Open Source Routing Machine (OSRM) is a C++ implementation of a high-performance routing engine for shortest paths in road networks. It combines sophisticated routing algorithms with the open and free road network data of the OpenStreetMap (OSM) project. Shortest path computation on a continental sized network can take up to several seconds if it is done without a so-called speedup-technique. OSRM is able to compute and output a shortest path between any origin and destination within a few miliseconds. Since it is designed with OpenStreetMap compatibility in mind, OSM data files can be easily imported. A demo installation is sponsored by Karlsruhe Institute of Technology and previously by our friends at Geofabrik. OSRM is under active development.

The key features of OSRM are:
High Performance Routing Algorithm
Flexible import of OSM data files
Written entirely in C++ and available under the very permissive (simplified) 2-clause BSD license for anyone to use. Previously, it was licensed under the restrictive AGPL.
Ability to handle continental sized networks
Influenced by current and ongoing academic research: [more info]
License
OSRM is free, open source, and available under the very permissive (simplified) 2-clause BSD license.
Platforms supported
Operating Systems
Compilers
Third Party dependencies
Linux (kernel >= 2.6.25)
FreeBSD
Windows (more or less)
Mac OS X
g++ 4.4+
llvm-g++/dragonegg 2.8+
llvm/clang 3.2+
icc 13.0+
Boost 1.44+
libxml2 2.7+
cmake 2.8+
stxxl 1.3.1+
libprotobuf 2.30+
Current version
Version 0.1 (July 10, 2010) is a baseline release. It has basic features. Version 0.2 (March 2011) is much faster and more resource friendly. After that the project switched to a rolling release. Version 0.3.7 is the current release that is geared toward new and exciting features.
Links/Download
Copyrights and permissions to to reproduce
The text of this page is available for modification and reuse under the terms of the (simplified) 2-clause BSD license.